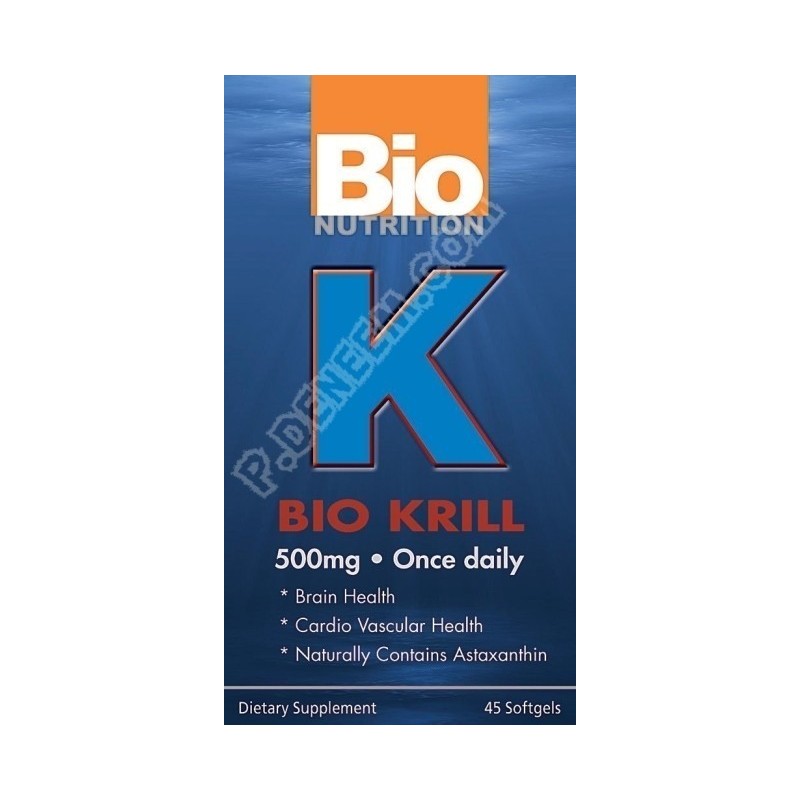  
Omega-3 Capsules of Krill - 500mg
45 softgels of krill oil. 500 mg.
100% pure Antarctic krill. Rich in Omega-3 oils: DHA and EPA.
(Total weight: 120 gr.)

KRILL OIL CAPSULES

Manufactured by Bio Nutrition Inc New York - USA
Bio Nutrition Inc. uses the best quality of Krill from the cold waters of Norway.




Important: the marine omega-3 more beneficial to human health are two molecules of initials DHA and EPA; so, when you purchase any product from krill oil, what the most important to know is the amount of DHA and EPA there is per pearl (in our product: 81mg of EPA and 52mg of DHA). So that you will always prefer a product whose capsules contain more amount of EPA + DHA. It is also necessary to pay attention, as some labels indicate these quantities per gram (or two capsules), instead of per a capsule/Pearl.

The omega-3 fatty acid called DHA, is highly concentrated in the brain, which helps cells communicate with each other and protects them from harmful substances such as the Alzheimer's disease. It also focuses on the retina of the eye, where it is critical for visual function. The EPA is important for healthy blood vessels, for the health of the heart and brain function. It also has anti-inflammatory and anticoagulant properties that favor healthy brain and heart.


What is krill?
Antarctic krill is a shrimp-like crustacean but just 2.5 centimeters long, 2 grams of weight and short life cycle, so it does not accumulate mercury in its body. It travels in the Antarctic Ocean in big banks made up of millions of individuals with a 20 kg/m3 density. It feeds on phytoplankton that floats on water and is the favorite food of seals, whales, penguins, birds and other marine species.


Although a good source of Omega 3 fatty acids is fish, the worrying degree of pollution suffered by the seas in the last 50 years makes you question the recommendation of its regular consumption. Heavy metals such as mercury, arsenic, cadmium or lead; toxic persistent compounds such as PCBs and dioxins, in addition to currently illegal or the dieldrin and DDT pesticides; are just some of the hidden travellers that are detected in fish.

The only way to get daily the beneficial Omega 3 fats in the diet safely is by using nutritional supplements Omega 3 of animal origin and high quality, as it is the oil of krill or fish oil that has been subjected to rigorous processes of purification of toxins, heavy metals, PCBs, etc.


High content of astaxanthin
Astaxanthin, considered the antioxidant of the 21st century, is the carotenoid that gives red colour to salmon, prawns or flamingos. It is caused by various types of microalgae that are the basis of feeding for zooplankton and krill. Astaxanthin is an excellent source of antioxidants which helps fight the signs of aging, improves physical performance, vision, and supports bone health.

Astaxanthin, contained in oil of krill, unlike some carotenoids, does not become vitamin A (retinol) in the human body. Excess vitamin A is toxic to humans, but astaxanthin does not. However, it is a powerful antioxidant; about 10 times more than other carotenoids.

Emilio Martínez de Victoria, Professor of Physiology and director of the Institute of nutrition and technology of the food of the University of Granada, explains that, thanks to its orange hue, krill oil is rich in astaxanthin and other natural carotenoids, pigments similar to the carotene of carrot. In addition, due to the stability of this type of antioxidant, there is no need to add artificial preservatives, unlike most of dietary omega-3 supplements derived from fish oil which, as they oxidize easily, should be preservatives.
Read more: Krill: Omega-3 pure - "La Razon" digital newspaper.


COMPOSITION


A Pearl of Bio Krill contains:

• Krill Oil: 500 mg.
• Omega-3 fatty acids
- EPA: 81 mg.
- DHA: 52 mg.
• Phospholipids: 200 mg.
• Astaxanthin: 500 mcg.
• Vitamin A (from Krill): 47 IU.
• Vitamin E (from Krill): 0.45 IU.

Other ingredients: gelatin, glycerin and water.


Caution: contains seafood
Free of trans fats, heavy metals, dioxins and pesticides.
It contains no gluten.


DOSE

- Adults: 1 capsule, 1 or 2 times a day, with breakfast or lunch.
- Children and pregnant women: children can take one capsule a day when they are old enough to swallow it safely. For young children, you can only cut the capsule and spread the oil in their diet. It is recommended that pregnant women consult their physician, but DHA and EPA are essential nutrients for mother and baby.

Notice: You must not consume krill oil if allergic to seafood.


Bottle with 45 krill oil capsules ....... 22.45 € (VAT incl.)